collected by :phillip rony
CESAccessory producer Satechi revealed its Type-C 75WMultiport Travel Charger, capable of charging up to four devices simultaneously, with it also capable of providing enough power to recharge a MacBook and an MacBook Pro as well as iPhones, iPads, and other devices.
Four different ports are available for recharging hardware via the travel charger , with it able to output up to a maximum of 75 watts across multiple devices.
A USB-C port can provide up to 60 watts, which is enough to power the 13-inch MacBook Pro, with the same connection also supporting fast charging for the iPhone X, iPhone 8, and iPhone 8 Plus.Two USB ports offer a 5-volt 2.4-amp connection for lower powered devices.
A third, the Qualcomm Quick Charge 3.0 port, can be used to provide power to compatible devices including recent iPhones as well as the Nintendo Switch, with the QC3.0 port said to be 38 percent quicker than the previous version, Quick Charge 2.0.The compact unit measures 4 inches by 2.63 inches by 1 inch, and is supplied with a detachable four-foot power cable.
It also features a broad power input range of 100 volts to 240 volts, making it compatible with a wide variety of power outlets around the world.Offered in a space gray casing, the Satechi Type-C 75W Multiport Travel Charger is available to buy now, priced at $64.99 Yesterday at CES, Satechi launched the Dual Charging Station , a USB-C powered dock that can provide power to an iPhone and an Apple Watch at the same time.
CES 2018: Satechi Announces 75W USB-C Multiport Travel Charger
Satechi today announced the launch of a new 75W USB-C travel charger that's equipped with multiple ports to charge all of your devices with one simple power adapter.The 75W Multiport Travel Charger offers four charging ports, including a USB-C power delivery port, two USB 3.0 ports, and one Qualcomm Quick Charge 3.0 port.The USB-C port can provide up to 60W of power, making it suitable for the 12-inch MacBook, the 13-inch MacBook Pro, and similar USB-C devices.
It can also charge a 15-inch MacBook Pro, but as that machine accepts up to 87W of power, it may not charge fully with the Multiport Travel Charger when under a heavy workload.While charging a MacBook or MacBook Pro, the Travel Charger can also charge your iOS devices at the same time, with up to 75W of total power provided.When using the USB-C port with a USB-C to Lightning cable, the Travel Charger enables fast charging on supported devices like the iPhone 8, iPhone 8 Plus, and iPhone X.Satechi says the Travel Charger features an input range of 100-240V, allowing it to meet the voltage requirements of multiple countries.
It has also been designed with a compact size to make it easy to fit into a backpack or luggage.Satechi's USB-C 75W Multiport Travel Charger can be purchased for $60 from Amazon.com or directly from the Satechi website for $64.99.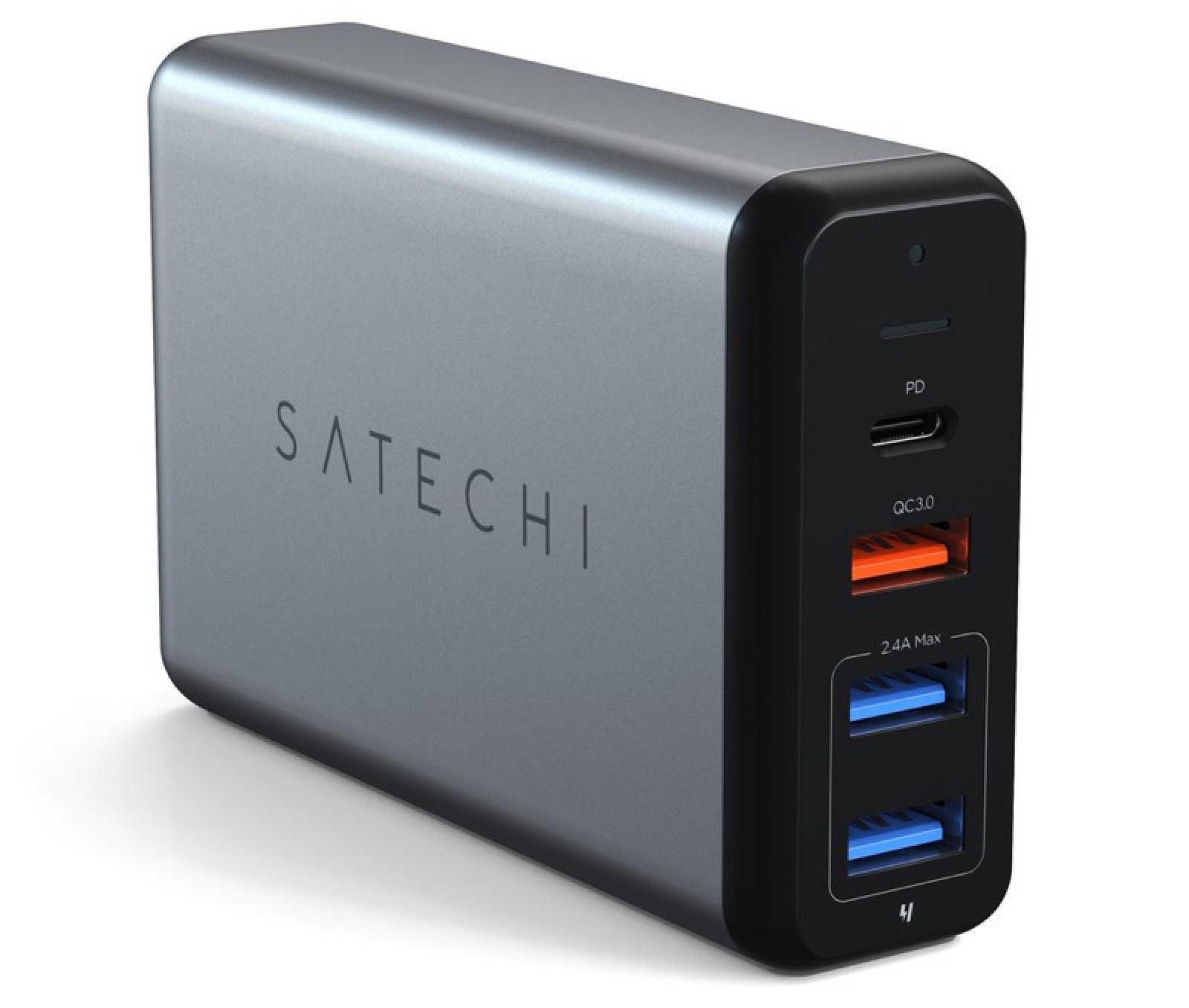 referring to At CES 2018, Satechi has announced another new USB-C accessory on the heels of unveiling its Smart Dual Charging Station for iPhone and Apple Watch yesterday.
The "Type-C 75W Multiport Travel Charger" offers 2 – 2.4A USB-A ports, 1 – QC 3.0 USB-A port, and 1 – USB C port at a fair price.
AirPodsAimed and MacBook and MacBook Pro users who are frequent travelers, the new Type-C 75W Multiport Travel Charger is a versatile and sharp alternative to the stock Apple charger and will help streamline the accessories in your bag.
The Multiport Travel Charger allows users to charge four devices at once, including a MacBook or 13-inch MacBook Pro at full speed (charging will be a bit slower for 15-inch MacBook Pro owners).
The new charger includes:1 – 60W USB-C port (charge MacBook/MacBook Pro or fast charge iPhone and iPad)2 – 2.4A USB-A ports1 – Qualcomm Quick Charge 3.0 port (compatible with iPhone X/8, Nintendo Switch, and more)Compatible with 100-240V outlets (handy for international travel)The Type-C Multiport Travel Charger comes in space gray and is priced at $59.99.